* ART LAW * Over the years it worked well for them. Threaten. Sue. Intimidate defendants, witnesses, judges & journalists. Testify in tandem at trial. Run roughshod over the legal system. Walk away unscathed – emboldened to sue yet again. Defending oneself against financially-motivated psychopaths hell bent on bringing misery to anyone opposing their will is no way to live, but we braved the onslaught expecting justice to prevail.
The truth is the Canadian legal system just wasn't capable of coping with art fraud. Nevertheless the Hearn Judgment set an important precedent. Art sellers who provide erroneous provenance may now be held accountable. Without this the proliferation of new forgeries could have proceeded unabated. A new book, Art Law: Cases and Controversies spotlights the experience of litigating purported Norval Morrisseau art within the context of Canadian civil law, in the chapter, "Fake Morrisseau: A case study in the challenges of art fraud litigation.", by Jonathan J. Sommer, LL.B.
* THE INVESTIGATION * Sparked by Jamie Kastner's eye-opening documentary a joint Ontario Provincial Police (OPP) – Thunder Bay Police Service (TBPS) investigation into alleged crimes related to Norval Morrisseau paintings is ongoing. On April 21 2022 in Lamont et al (CR-21-000149-00MO) an Application was Heard in Thunder Bay Criminal Court possibly related to evidence seized in 2019. The Respondents were Gary Lamont, Linda Tkachyk (Lamont's wife), David Voss and his wife, Diane Champagne, Donna Shea (former VP of Randy Potter Auctions) and Ponty & Company (Albert Azzolini). UPDATE: OPP Press Conference -The results of a major investigation into forged Norval Morrisseau artwork that was launched in Thunder Bay, Ont., in 2019 will be revealed on Friday March 3rd 2022 at the Ontario Provincial Police general headquarters in Orillia starting at 10 a.m. ET, and will include Thunder Bay police's Acting Chief Dan Taddeo and Det. Sgt. Jason Rybak.
Court docket - Gary Lamont et al
* LAMONT * Gary Lamont was arrested by the Thunder Bay Police Service on two new charges for sexual assault and sexual assault with a weapon for an alleged incident that occured between Dec. 20, 2021 and Jan. 7, 2022, just weeks after his release from 5 years in prison for violent sex crimes. Though Lamont was held under house arrest awaiting trial on Sunday May 15th he was arrested yet again for another sexual assault which occurred on Friday, May 13, 2022. There appear to be six active criminal cases listed against Lamont. Three are under a publication ban. He is scheduled to appear before the Court again on July 25, 2022.
Jan 2022 Court Docket
June 2022 court docket
* MATULIC * Beginning in 2001 Ugo Matulic worked for Lamont developing numerous websites to promote fakes. Matulic is a Croatian immigrant who intentionally led some people to believe he was Native, posting daily under the fictitious name Spirit Walker until he was outed a year later. His defamatory blog which he started in 2007 has, for all intents and purposes, been banned-in-Canada. As a Lamont reseller and distributor Matulic testified to owning hundreds of Morrisseau paintings. In the film, There Are No Fakes, Dallas Thompson speaks of driving dozens of times to Calgary with Gary Lamont and Benji Morrisseau to conduct business with him. A few years ago Matulic flew the coop for Lake Jackson, Texas.
"And at that time, that's when production was just… they're spitting them out, the Norval Morrisseau fakes. It was crazy, that summer, in 2006, 2007, we went to Calgary approximately twenty-six times in a two, three month period, selling art. And Benji came on ninety percent of the trips, 'cause he was a driver and Gary… they'd split the driving, we'd drive to Calgary, one str… straight shot, twenty-three hours, twenty-four hours. Sell the art and, you know, sleep, and be gone the next morning, drive straight back. And on every trip, there was probably about thirty paintings that Gary would bring. Average price was probably around three grand per painting." (Dallas Thompson, There Are No Fakes)
Click here for a more intimate photo
* THE GOLDIS *  On June 27 2022 a final Judgment in a multi-pronged Superior Court lawsuit brought by Jonathan Sommer against the Goldis was granted including damages and costs of more than half a million dollars. In retaliation for the lawsuits brought against them by Sommer the Goldis sued in Brampton small claims court alleging that he coordinated the filing of criminal complaints for nine complainants against the Goldis to defame them. That action has since been dismissed with costs awarded to Sommer. Amongst others, the Goldis also owe thousands of dollars in Court costs to Postmedia and CTV Globemedia after losing frivolous lawsuits to them. | Related Article
It looks like the Goldis, who assert that the Courts have no jurisdiction over them, will soon be arrested and brought before the Court on Contempt charges. Arrest warrants previously issued for John and Joan Goldi to enforce their attendance in Court remain active. In fact the Judgment details time set aside on July 8, 2022 for an audience between the Honourable Mr. Justice D. L. Corbett and the Toronto Chief of Police or his representative to explain why his warrants haven't been executed. Contempt allegations against the Goldis first came into evidence in a 2017 motion in the Hearn action yet were set aside in that case.
Otavnik on Carmen Robertson
On the Thunder Bay Art Gallery
* OTAVNIK * Few have a penchant for suing like Joe Otavnik who recently lost yet another frivolous small claims lawsuit. This time to Morrisseau scholar Carmen Robertson. Otavnik claimed that Robertson defamed four paintings he once owned in her Expert Report filed in the Hearn v McLeod action.
The four paintings first came into evidence in 2010 in another action lost by Otavnik. For $33,000 in tax credits Otavnik's sister, Irene Seetner, donated his paintings to the Thunder Bay Art Gallery in her name. Seetner also used her name to donate purported Morrisseau art to the publicly-funded Oshawa Art Gallery, where she was a Trustee. Otavnik also sued the Thunder Bay Art Gallery in small claims court over the same issue and lost there as well.
* THE BREMNER VIDEO * Paul Bremner was rightfully rejected as a Morrisseau expert by the Court, when Jim White brought him in to testify for his cause in Hearn v McLeod. As the authenticator of Jim White (and Jeff Cowan's) purported Morrisseau paintings and prints Bremner has a lot to answer for. I witnessed him on the stand. He knows next to nothing of Morrisseau or his art and is boring beyond belief.  Opinion, hearsay, straw man arguments, misinformation, disinformation, sleight of hand, conjecture, scapegoating. This video has it all. Just not the truth.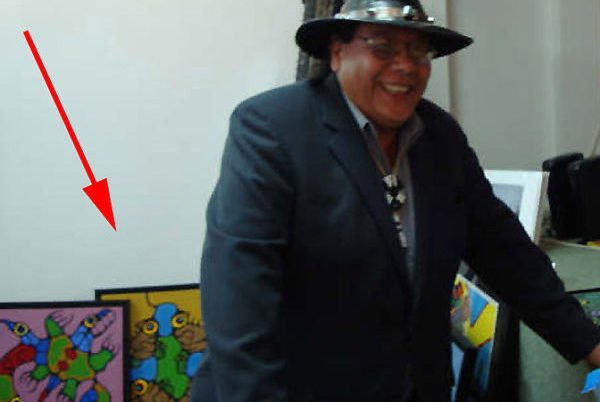 * Wolf's Confession * Wolf Morrisseau's confession filmed in Paul Bremner's garden of delight is startling. He finally admits to painting for Gary Lamont in the mid-1990s. Wolf was born in 1959, yet there are hundreds of artworks purporting to be Morrisseaus that are signed in black-dry brush and dated in the 50s, 60s and early 70s when he was just a kid, yet he claims twice in this Video to have been the person who advised Norval to sign his name in English to facilitate international art sales.
* LOOKING AHEAD * The future looks bright. Westerkirk Works of Art (WWOA) have developed the definitive collection of authentic Morrisseau art as demonstrated by their stunning exhibition recently held at the Regina Art Gallery. As of May 2022 Morrisseau's former principal art dealer, Kinsman Robinson Galleries, have closed their doors for good, however, notable galleries such as Mayberry Fine Art Galleries and Bay of Spirits Gallery go to great lengths to guarantee that the Morrisseau art they offer is genuine. Coghlan Art offers late-period prints and original Morrisseau paintings with direct provenance to the artist and the Morrisseau estate now have their own website to consider copyright inquiries. Authentication services, brought to you by yours truly, are now available. At auction Morrisseau's, "Animal Unity", recently smashed the current artist record at auction soaring to $312,000, more than four times the pre-sale estimate.
* STEFFICH * Sadly Matt Steffich passed away on June 3 2020. He was a great friend to Norval who was loved and respected by those involved in defending Morrisseau's legacy and will be remembered for all he did to assist in the cause over many years. Amid cherished memories Matt is deeply missed.
"I moved to Salt Spring Island, BC to open Thunderbird gallery in 1992. On the day we opened I had Morrisseau's artwork on the walls. He had captured my heart and soul and I was a devoted enthusiast." Read the entire article, "When I First Met Morrisseau" by Matt Steffich
Steffich Fine Art continue on as an exemplary source offering only authentic Morrisseau art.
* HUMANITY * Our fight for authenticity made us all pariahs, including Morrisseau. No one wanted to wake up. No one wanted to know that there were fakes. Had we done nothing the loss would have been substantial. Norval envisioned people as beings of destiny, vibrantly alive and spiritually connected to nature and one another. He believed that the dis-empowered had fallen asleep and could be awakened from their stupor in the blink of an eye before the right piece of shamanic art. The fact that mighty forces worked so feverishly to hide his brilliance is a testament to the spiritual significance of his work. Humanity's evolutionary journey is a sacred weaving of the achievements of great souls. Morrisseau may be just another gossamer thread in the fabric of civilization – but oh what a thread!
THERE ARE NO FAKES
A Cave 7 Production
114 Minute Documentary
Distributed in Canada by Mongrel Media
Jamie Kastner – Writer / Director / Producer
Laura Baron Kastner – Producer
Michael Hannan – Editor
Kevin Hearn – Original score
Derek Rogers – Cinematographer
Jane Jankovic – Executive Producer, TVO